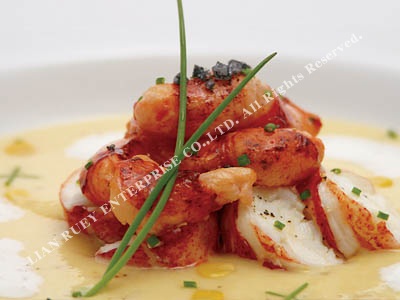 Method:
1. Placed the steamed lobster tail meat on plate.
2. Pour the double-boiled chowder on top.
3. Place some green onion or basil for decoration.
4. Add up some black pepper before eating.
p.s. We suggest you can try the steamed tail meat to taste the
sweetness of the fresh seafood.
Steam Lobster Tail Meat:
1. Put the defrost tail meat into the bamboo steamer to steam
for 3 minutes, then muffled tail meat for 8 minutes.
P.S. If the tail meat wasn't totally defrost, then it needs to
steam for 5 minutes before muffled for 8 minutes.
Ingredients:
Canadian Lobster Tail Meat, Chowder, Gree onion, Pepper