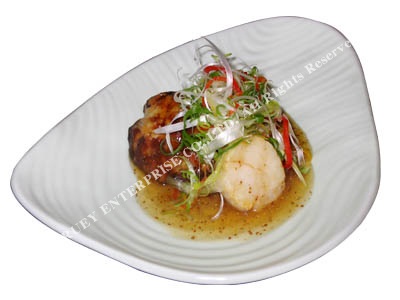 Method:
1. Bake the scallop, fish steak and Chinese yam.
2. Strip the green onion, pimiento, yellow pepper, and soak in
cold water.
3. Place well-baken scallop, fish steak and yam on the plate.
4. Pour the seasoning and sparkle the Step 2 on top.
Seasoning: Boil muster seed sauce 1 tea sp., wooden fish stock 4cc, soy sauce 100cc, and the glutinous rice wine 100cc, then thicken the sauce by putting potato flour mixed with water.
Ingredients:
Canadian Scallpos, Filet Fish Steak, Chinese Yam, Green Onion, Pimiento, Yellow pepper